DreamWork's Tours Shrek's Adventure Review
DreamWork's Tours Shrek's Adventure offers a unique walk and ride attraction that is pretty different from anything you'd normally plan to do on the weekend. Who knew Donkey 'accidently' killing Rumpelstiltskin's head witch could lead to such mayhem, weirdness and adventure.
Website: https://www.shreksadventure.com/london
Entry: Adults £18.20 \ Kids £15.35
Open: 10am – 5pm Sunday – Friday / 10am – 6pm on Saturday's
Check-in on Bloc: Shrek's Adventure, Southbank
We stepped into the kingdom of Far Far Away and enjoyed a brand new madcap Shrek adventure where amazing DreamWorks animation, captivating story-telling and a good dose of Donkey's cheekiness awaited.
We were given two press passes to check it out and to be honest we had absolutely no idea what was in store and went thinking we could easily be 15 years too old for this. I mean don't get me wrong I did have to move 4 kids at one point so I could get a better look at The Gingerbread Man but the kids were outnumbered by adults (parents maybe :\). Yes more of a family attraction but with the right attitude most can enjoy this and I'll explain why.
The adventure begins when you board a magical 4D 'DreamWorks Tours' bus. I must admit, I was absolutely blown away by the effects (my fear of heights seriously came into play at one point even though my feet were firmly on the ground). This was the highlight for me. With Donkey as the mischievous tour guide, calamity, chaos and endless fun was the name of the game.
You then get walked through to different rooms with a different character in each. 'Fairy-tale themed shows' if you like. Someone at DreamWork's deserves a pat on the back because the effects didn't end at the tour bus, each room had something different that left me turning to my mate and asking 'how did they do that?', probably said 20 times in total.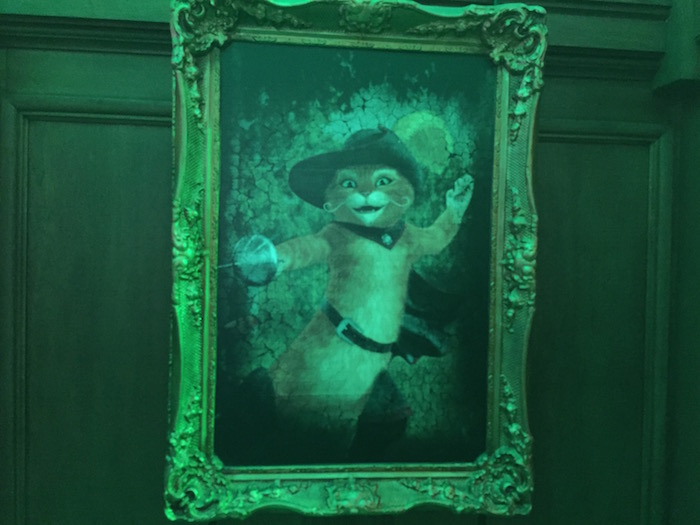 Anyway, that's enough from me before I spoil it. If you're into Shrek (or other DreamWork productions – yeah Kung Fu Panda makes a cameo appearance), appreciate special effects or want to 'completely' change it up then this isn't a bad option at all.
It's also a chance to add a bit of green to your Instagram… here's Shrek and Donkey.